Passion for Sports
Worldwide delivery
Call us: +31 416 652 803
Nike ZoomX Invincible Run FK Men
Unfortunately, this product is no longer available.


This special colorway celebrates unity as athletes around the world emerge from the past events of the year. You benefit from a soft feeling thanks to the higher foam heights. The wide shape at the forefoot provides a more stable ride.

The Nike ZoomX foam is responsive and lightweight, giving you more bounce with every step. The foam is shaped like a rocker and provides support for the 3 phases of a runner's stride. It offers flexibility when your foot lifts off the ground, a smooth ride when your foot moves forward and cushioning on ground contact.

In addition, the Flyknit upper consists of special zones of breathability where your foot warms up the most. It's strong and durable, so your foot stays safe every mile. The Waffle outsole is made using rider-informed data for traction where you need it. The panel at the heel is embedded in the Flyknit and provides support and stability.

Features and benefits
- Neutral running shoe
- A panel at the heel is embedded in the Flyknit and provides support and stability
- The collar is cushioned for a soft, comfortable feel
- Nike ZoomX foam
The Nike ZoomX Invincible Run FK for men is a neutral running shoe, made for running long distances. The lightweight and responsive foam feels comfortable and helps deliver energy with every step.
Size Chart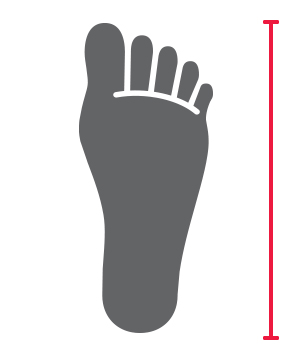 Choose the right size
Doubt about the right size? No problem at all! The size chart below can be used as a guideline for choosing the right shoe size.
The best time to measure your feet is at the end of the day. Because of the warmth and movement your foot swells a bit during the day.
Do you fall exactly between two sizes? Then we advise you to always choose the bigger size. If this size turns out to be too big, you can always return the shoes free of charge!
| Length heel-toe in CM | EU size | UK size | US Men |
| --- | --- | --- | --- |
| 22.5 | 36 | 3 | 4 |
| 23 | 37 | 3.5 | 4.5 |
| 23.5 | 37.5 | 4 | 5 |
| 24 | 38 | 4.5 | 5.5 |
| 24.5 | 39 | 5 | 6 |
| 25 | 39.5 | 5.5 | 6.5 |
| 25.25 | 40 | 6 | 7 |
| 25.5 | 40.5 | 6.5 | 7.5 |
| 26 | 41.5 | 7 | 8 |
| 26.5 | 42 | 7.5 | 8.5 |
| 27 | 42.5 | 8 | 9 |
| 27.5 | 43.5 | 8.5 | 9.5 |
| 28 | 44 | 9 | 10 |
| 28.25 | 44.5 | 9.5 | 10.5 |
| 28.5 | 45 | 10 | 11 |
| 29 | 46 | 10.5 | 11.5 |
| 29.5 | 46.5 | 11 | 12 |
| 30 | 47 | 11.5 | 12.5 |
| 30.5 | 48 | 12 | 13 |
| 31 | 49 | 13 | 14 |
| 32 | 50.5 | 14 | 15 |
| 33 | 51.5 | 15 | 16 |