Passion for Sports
Worldwide delivery
Call us: +31 416 652 803


The Nike Zoom Fly 4 has the same responsive flexibility as its predecessor and offers a lot of support in the midfoot. As a result, your feet stay in the same place better while walking.

Features and benefits
- Neutral running shoe
- Nike Flyknit wraps around the collar
- A sock-like, snug feel that wraps your foot securely
- Light mesh upper for a more breathable feel
- Internal heel pod keeps your foot comfortable
- Midfoot support through four individual pieces of fabric integrated with the laces
The Nike Zoom Fly 4 for men is a very pleasant running shoe with which you immediately take your training to a higher level. The model has a renewed and extra ventilating soft upper. The more elastic collar provides a sock-like fit. This makes it easier to put the Nike Zoom Fly 4 on and off.
Size Chart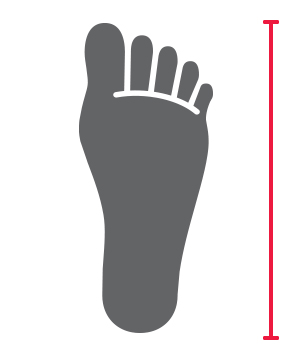 Choose the right size
Doubt about the right size? No problem at all! The size chart below can be used as a guideline for choosing the right shoe size.
The best time to measure your feet is at the end of the day. Because of the warmth and movement your foot swells a bit during the day.
Do you fall exactly between two sizes? Then we advise you to always choose the bigger size. If this size turns out to be too big, you can always return the shoes free of charge!
| Length heel-toe in CM | EU size | UK size | US Men |
| --- | --- | --- | --- |
| 22.5 | 36 | 3 | 4 |
| 23 | 37 | 3.5 | 4.5 |
| 23.5 | 37.5 | 4 | 5 |
| 24 | 38 | 4.5 | 5.5 |
| 24.5 | 39 | 5 | 6 |
| 25 | 39.5 | 5.5 | 6.5 |
| 25.25 | 40 | 6 | 7 |
| 25.5 | 40.5 | 6.5 | 7.5 |
| 26 | 41.5 | 7 | 8 |
| 26.5 | 42 | 7.5 | 8.5 |
| 27 | 42.5 | 8 | 9 |
| 27.5 | 43.5 | 8.5 | 9.5 |
| 28 | 44 | 9 | 10 |
| 28.25 | 44.5 | 9.5 | 10.5 |
| 28.5 | 45 | 10 | 11 |
| 29 | 46 | 10.5 | 11.5 |
| 29.5 | 46.5 | 11 | 12 |
| 30 | 47 | 11.5 | 12.5 |
| 30.5 | 48 | 12 | 13 |
| 31 | 49 | 13 | 14 |
| 32 | 50.5 | 14 | 15 |
| 33 | 51.5 | 15 | 16 |