Passion for Sports
Worldwide delivery
Call us: +31 416 652 803


Features and benefits:
- Improved cushioning under the heel provides extra comfort.
- Arch support keeps the midfoot in place.
- Pebax® plate with 5 detachable spikes provides optimum push-off power.
- Single-layer mesh is light and breathable.
- Overlays at the toe and heel provide durability.
- Foam midsole provides lightweight, responsive cushioning.
- The anatomical nose shape provides a spacious, comfortable fit.
The Nike Zoom Rival D 10 is a spike shoe made for runs on the track. The shoes are best suited for competitions from 800m to 5km. Thanks to the anatomical fit with cushioning, this is a light and fast shoe with the right support. With this shoe you are ready to win every match.
Size Chart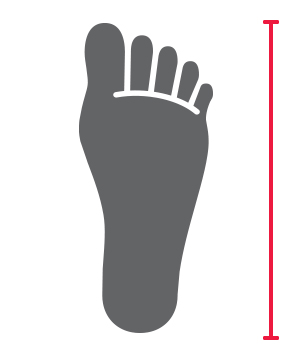 Choose the right size
Doubt about the right size? No problem at all! The size chart below can be used as a guideline for choosing the right shoe size.
The best time to measure your feet is at the end of the day. Because of the warmth and movement your foot swells a bit during the day.
Do you fall exactly between two sizes? Then we advise you to always choose the bigger size. If this size turns out to be too big, you can always return the shoes free of charge!
| Length heel-toe in CM | EU size | UK size | US Men |
| --- | --- | --- | --- |
| 22.5 | 36 | 3 | 4 |
| 23 | 37 | 3.5 | 4.5 |
| 23.5 | 37.5 | 4 | 5 |
| 24 | 38 | 4.5 | 5.5 |
| 24.5 | 39 | 5 | 6 |
| 25 | 39.5 | 5.5 | 6.5 |
| 25.25 | 40 | 6 | 7 |
| 25.5 | 40.5 | 6.5 | 7.5 |
| 26 | 41.5 | 7 | 8 |
| 26.5 | 42 | 7.5 | 8.5 |
| 27 | 42.5 | 8 | 9 |
| 27.5 | 43.5 | 8.5 | 9.5 |
| 28 | 44 | 9 | 10 |
| 28.25 | 44.5 | 9.5 | 10.5 |
| 28.5 | 45 | 10 | 11 |
| 29 | 46 | 10.5 | 11.5 |
| 29.5 | 46.5 | 11 | 12 |
| 30 | 47 | 11.5 | 12.5 |
| 30.5 | 48 | 12 | 13 |
| 31 | 49 | 13 | 14 |
| 32 | 50.5 | 14 | 15 |
| 33 | 51.5 | 15 | 16 |